This short Video shows you how to track an airplane on flightradar.flights.
Flightradar24
Tap on an aircraft on the radar to track it directly, or enter a valid flight number in the search bar above and confirm your entry to display the flight you want on the flight radar.
When you have selected a flight, the aircraft is highlighted, the flight route is displayed and you get an overview of all important data about the selected flight in the radar in the bar on the left-hand side.
With Flightradar24 you have the opportunity to track planes for free.
Flightradar24 offers you a radar with map function, which enables the display of flights in real time on your smartphone or desktop PC.
This allows you to find out which aircraft are currently on the move.
With the free version of Flightradar24 you can also find certain flights using a flight number.
With a paid subscription you can activate additional premium functions at Flightradar24.

How Does Flightradar24 Work?
The signals emitted by ADS-B transmitters are picked up by ADS-B receivers located on the ground and fed into the Flightradar24 network via the Internet.
Aircraft are also recorded via satellites. This mostly happens in areas where there are not enough ADS-B receivers available. This can often be seen over the ocean.
The transmitted ADS-B data are evaluated in the network and displayed on the map in Flightradar24.

Find an Aircraft by Flight Number
You can also locate aircraft using a valid flight number and display them in Flightradar24.
To do this, enter a valid flight number in the flight radar search bar and press "Start search".
This will show you the flight you are looking for, if available, and track it in real time.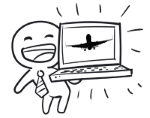 Flightradar24 Symbols
Flightradar24 displays the following symbols to visually display the transferred data on the map:

Yellow aircraft = aircraft that are received via ADS-B
Blue planes = planes which are received via satellite
Blue and white markings = location of airports
Airplane with white rings = airplane received by satellite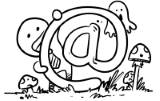 Show Important Data in Flightradar24
You can have important data displayed directly in Flightradar24.
Click on an aircraft in flight radar or enter a flight number to track an aircraft live.
This means that all important data such as departure and arrival airports as well as departure and arrival times are displayed at the same time.
This will help you better prepare for an arrival.
Frequently Asked Questions About Flightradar24
Are military aircraft displayed on Flightradar24?
Usually no military aircraft are displayed on Flightradar24. However, one can occasionally observe certain military aircraft, sometimes without precise identification.
Is there Flightradar24 in another language?
No. Flightradar24 is only delivered in English.
Is Flightradar24 free?
Yes. You can use Flightradar24 for free. However, if you want more functions, then you have to order a subscription for a fee that suits your needs.
Can I also become an ADS-B recipient for Flightradar24?
Is Flightradar24 in real time?
Yes. Airplanes are displayed in real time.
At what altitude does an airplane fly?
Cruising altitudes vary between approximately 2,700 meters (9,000 feet) and 13,000 meters (43,000 feet) above sea level. Jet-powered commercial aircraft usually fly between 9,000 meters and 13,000 meters.
How fast can an airplane fly?
A turboprop airliner flies at a speed of up to 350 kt (650 km / h). In jet aircraft, the flight speed is around 80% to 85% of the speed of sound, which – depending on the temperature between FL100 and FL360 – corresponds to around 490 to 540 kt (approx. 900 to 1000 km / h)
How many planes are in the air at the same time?
It is difficult to give a general answer. However, the fact is that more than 200,000 aircraft have been measured in one day since 2018. There were more than 19,000 flights that were in the air at the same time. Forecasts assume a further increase in air traffic. Different flight altitudes should make this possible.
How many times a year does an airplane crash?
In the period from 1945 to November 2021, 62 aircraft crashed in Germany. You can find more statistics on this under the following link: Airplane crashes since 1945
Is it safe to fly an airplane?
According to statistics, flying by plane is one of the safest modes of transport in the world. The chance of a plane crashing is around 1 in 30 million.
Information and Sample Letters