This short Video shows you how to track an airplane on flightradar.flights.
Welcome to Flight Tracking
Flight Tracking Online
Air traffic control technology not only benefits air traffic safety, but also private individuals who want to record current data on a flight. With flight tracking, you can orientate yourself better when you need to keep business or private appointments and optimize your schedule. With ADS-B transponders and now also satellite-based data processing, you have the option of querying all important flight data in real time and displaying them on your device. The radar and the data are updated every second. Flightradar24 monitors more than 100,000 flights every day. Flight tracking is now generously covered worldwide. Thus, a secure flight tracking is possible, which can accompany you on your or the trips of others.
With the help of Flightradar.flights, thanks to the radar, you can easily track the flight information you currently need on your smartphone, tablet or desktop.
Number of Flights Worldwide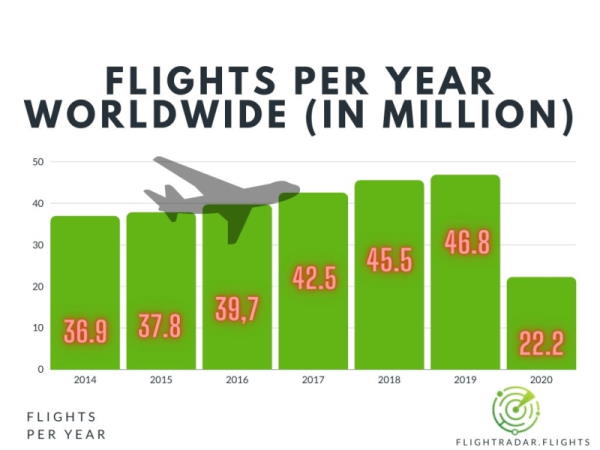 Air traffic has been growing steadily since the beginning. However, Covid-19 left a strong mark on aviation in 2020, so there were not even half the flights in 2020 as in the year before. A normalization to the old peak of 2019 is expected from 2025.
How Does Radar Flight Tracking Work?
With Flight Tracking, you can follow the flight status of any aircraft online, so you can better assess the status and see in near real time when the aircraft takes off, lands, where it is currently, is delayed or is approaching the flight destination.
You will also receive the fully recorded data from the aircraft that you are tracking on the radar. The most important data, which you can use free of charge thanks to the flight radar on this page, include:
Flight number
Airline
Aircraft identification number
Type and class
Expected flight duration
Flight route
Flight distance travelled
Departure and arrival airport
Departure and arrival time
Photo of the aircraft (if any)
Altitude
Latitude and longitude
Cities and airports (IATA coding)
Runway
Current weather
Speed
Which Planes Can You Track?
You can track all aircraft equipped with a transponder on radar. This includes all passenger aircraft that many people use to travel around the world every day. Today, ADS-B transponders are part of the mandatory basic equipment of commercial aircraft and most business jets. Ground vehicles at the airport are also equipped with ADS-B transponders. ADS-B enables air traffic control to optimally monitor aircraft, but also ground vehicles to increase safety.
The modern high-tech radars can track any aircraft equipped with the special transponder. This includes:
Airliners
Cargo planes
Private planes
Helicopter
Some military aircraft
Thanks to flight tracking, you know what type of aircraft you are looking for.
Top 6 – Most Common Aircraft Types (As of 2022)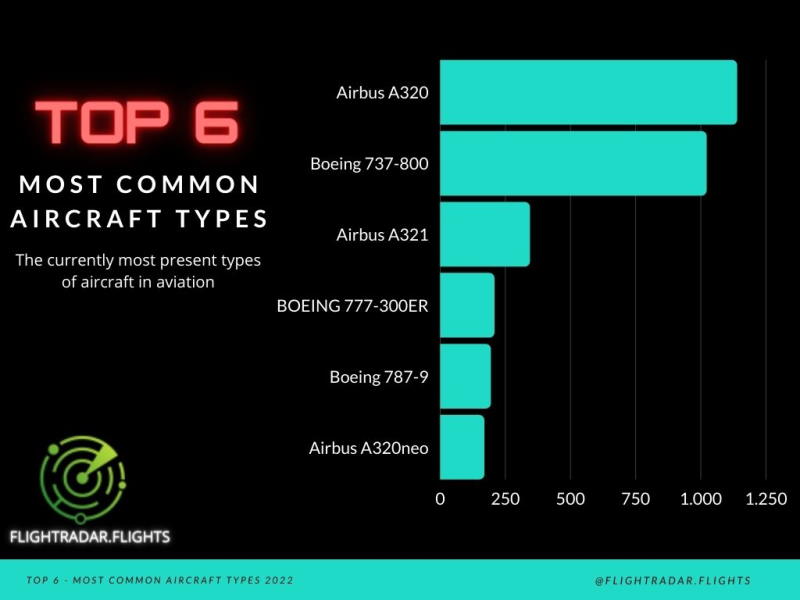 List of the Most Commonly Used Aircraft Types
In the following list you can see a number of aircraft models that are currently frequently used in air traffic.
Airbus (Airbus A300–A380)
Antonov AN-148, AN-158
ATR 72-600
BAe ATP
BAe Avro RJ70, RJ85, RJ100
Boeing 737, 747, 757, 767, 777, 787
Bombardier CS100, CS300
Embraer E190
Fokker 70–100
Gulfstream V, Gulfstream G500/550
Tupolev Tu-204
McDonnell Douglas MD-10, MD-11
Sukhoi Superjet 100
Ilyushin Il-96
Information and Sample Letters